Lance R. Gooding
Lance Gooding has spent over 25 years with Gooding Contractors, Inc and served as President since 2007. Lance was born and raised in Hampton, SC and had his life experiences throughout the South Carolina Lowcountry. He is a 1993 graduate of Clemson University with a degree in Construction Science & Management. Lance joined his family owned and operated construction business after college. Gooding Contractors, Inc. and the Gooding Family have been serving the Lowcountry's commercial and residential building needs for over 45 years. Lance is married to Mandy and has two children, Rich and Barnes.  He and his family recently relocated to the Beaufort area.  Lance currently serves on the Holy Trinity Classical Christian School Building Committee and is a volunteer baseball coach in the local PALS program. He attends the Parish Chuch of St. Helena.  Lance enjoys hunting, fishing, golfing and spending time with his family in his spare time.
Brad R. Bowden
Brad Bowden joined Gooding Contractors, Inc. in 2003 and serves as the Vice President. After graduating from Clemson University in 1993 with a degree in Construction Science & Management and working for over a decade in the construction industry near Atlanta, Georgia, Brad along with his wife, AnnMarie, and children, Claire and Charlie, relocated to Beaufort, SC and the "Southern Living Inspired Community" of Habersham. Before moving to Beaufort, Brad was the Vice President of his family owned and operated commercial general contracting firm specializing in church & institutional construction.  After moving to Beaufort, Brad served on the Beaufort County N. Corridor Review Board for over seven years, has been a basketball coach at Riverview Charter School, he has served as an Elder at First Presbyterian Church of Beaufort and he has served as a director on the Habersham Townhome Association. Brad enjoys boating, golfing, tennis, snow skiing and traveling with his family when time avails.
Amber Godowns
Amber joined Gooding Contractors in 2017. Amber has more than ten years of experience in the construction industry.  She has worked behind the scenes of construction while working for Ferguson Enterprises.  She's also guided clients with design selections while working for a custom home builder in Bluffton.   At Gooding Contractors, she works hand in hand with the homeowner to ensure that their vision and idea for each area come to life, all while considering the parameters of a budget.  Amber is originally from North Carolina and has lived in the Low Country since 2005.  Amber and her husband, Asa, have 2 daughters and a son.  She enjoys sewing and custom embroidery, reading, and spending sunny days on the boat with family and friends.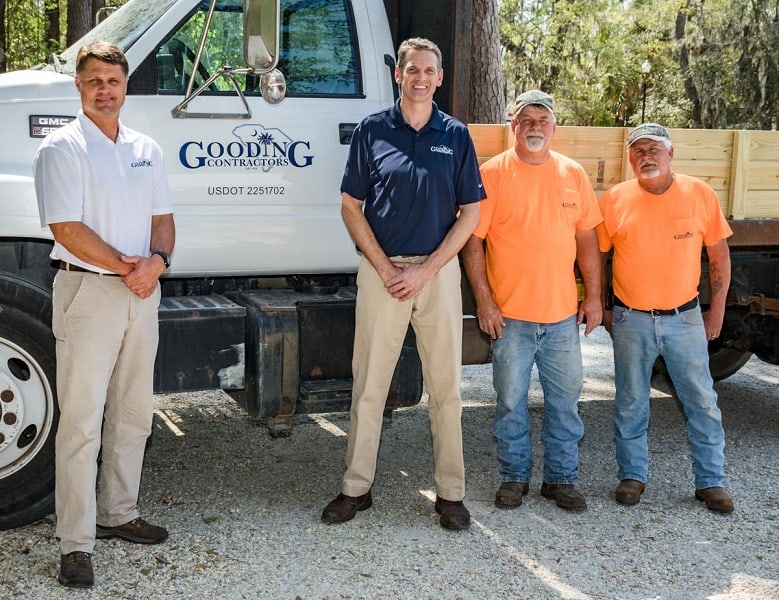 Donald "Donnie" Mosley and Don Rivers have 50 years combined experience with Gooding Contractors.